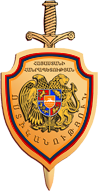 DIRECT CONNECTION. QUESTIONS AND ANSWERS

ՀՀ ոստիկանության պետի ժամանակավոր պաշտոնակատար պարոն Ա....

more...

To periodically get acquainted with the RA Police website materials, You can subscribe and receive news updates by e-mail.

© The official website of the police of the Republic of Armenia.
Our Аddress:130 Nalbandyan St., Yerevan, 0025. Department of Public Relations and Information. E-mail:press@police.am, dimum@police.am. The refference to the www.police.am is necessary.
The necessary phone numbers are in the section HOTLINE.



Organization for Security and Cooperation
in Europe office in Yerevan.
The web-site was prepared with the support of the OSCE Office in Yerevan.
The website operative materials don't claim to final truth and the cases are represented from the point of view of presumption of guilt and support for the preliminary investigation interests. The Court's valid judgement is the ultimate one.